An interesting dinner
Niklas Frykholm, 28 May 2007 18:13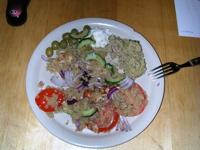 This was my dinner today. Pretty tasty, not?
If you want to make this dinner, just mix mountain herbs with tomatoes and cheese. If you like it, why not write me a letter and tell me about it.
Why the hate?
Niklas Frykholm, 17 May 2007 22:13
Why is there so much hate, discrimination and environmental destruction in the world? If only everybody was like me, then our life here could be a paradise.
Do cats have dreams?
Niklas Frykholm, 13 May 2007 20:13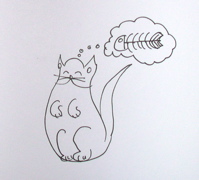 Do cats have dreams? Feelings? Ambitions? Worries? Neuroses? Conundrums?
Sometimes when I look into the eyes of my cat, it is like looking into an endless well of ancient wisdom.
There is an old Chinese saying: Pleasing a cat is like pleasing yourself.
The new tooth brush
Niklas Frykholm, 10 May 2007 11:13
Today I was feeling a bit low. I thought maybe a new tooth brush would cheer me up, so I went to the super market. They had like a hundred different tooth brushes, but not the kind I really wanted, the one with the very soft straws. But I didn't want to go home empty handed, so I bought a brush anyway.
On my way home I regretted my decision. Why had I bought this tooth brush when I didn't even really want it? These thoughts sent me to new depths of despair and self-loathing. If only there was a brush that could cleanse my mind the way the tooth brush cleanses my teeth.
Bridge opening
Niklas Frykholm, 7 May 2007 14:13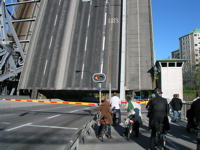 Today I saw a bridge opening.
Bridge openings always make me happy and sad. Happy because it is something pretty exciting that is happening, with big motors and stuff. Sad because I have to wait for the bridge to open and close before I can pass.